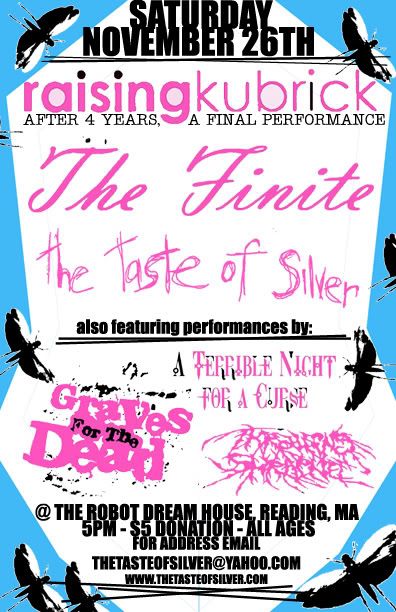 SATURDAY!!!!!
November 26th

5pm doors - 6pm first band - $5 donation - all ages

Raising Kubrick
The Finite (ex-Dead Water Drowning, brutal as all hell)
The Taste of Silver
Graves For The Dead
A Terrible Night For A Curse
Throwing Shrapnel
+ 1 more tba

@ The Robot Dream House
196 Wakefield St
Reading, MA

thetasteofsilver@yahoo.com


DOOLINFEST! Come celebrate:

-Raising Kubrick's last show after 4 years
-Graves for the Dead's last show
-mOe from RK's 21st birthday
-The Doolins's birthdays
-The Taste of Silver / Raising Kubrick split CD release
-A Saturday
-Rock!